Spring has sprung, Daytona Bike Week has now passed and we're all ready to hit the open road.  With much of the country experiencing Parked Motorcycle Syndrome, the need to get on your bike is real.  If you still can't get on your bike, though, you can still get into the swing of things by updating your ride.  Fortunately, this time of year is also when many of the new aftermarket Harley parts are released.  Just in time to get your bike ready for prime riding.  Listed below are some of the more interesting new parts that can make your a bit more fresh this summer.
Magnum Handlebar & Cable/Line Kits
One of the most common aftermarket upgrades is to swap out the stock handlebars for an aftermarket set.  But even though this procedure is common, many riders will still run into a few snags when attempting it themselves. For starters, you will have to figure out if you will need new cables and lines with your new bars.  For someone who hasn't done it, calculating the correct lengths can take some time and can even be a bit confusing.
The new Handlebar kits from Magnum solve this dilemma.  The kits include the style of Touring handlebars of your choice along with all of the matching braided throttle, clutch and idle cables, brake lines and all of the hardware needed for the swap.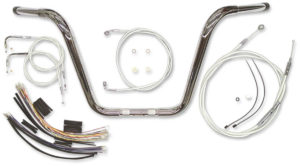 The Magnum bars are available in either an Ape Hanger style or true Bagger style bars.  They are also offered in either a Black Peal or Sterling Chrome finish.  The choice of heights are between 12", 14" and 16" options.  The cables and lines are what you would expect from Magnum: high quality.  They are offered in either their Sterling Chromite II or the Black Pearl braid.
HogWorkz Razor Tour Pack with Backrest
Style?  Check. Comfort?  Check. Performance?  Check.  The new HogWorkz Razor Tour Pack is a great example of a whirlwind of excellence.  Where many other Harley tour packs can become bulbous on the back of your bike, the Razor keeps things streamlined.  All elements of a top-notch motorcycle product are ticked off with this piece.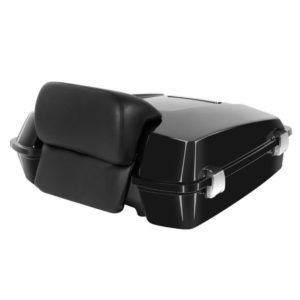 For all Harley Touring bikes from '97-'17, the Razor Tour Pack is a great way to add a good bit more storage without throwing off the angular styling of your bike.  The built-in passenger backrest provides added comfort to you pillion rider, without being overstated.  This top box opens from the side via two durable latches and can be locked when you are away from the bike.  It measures 26″ L x 22″ W x 6.5″ H and provides ample amount of storage for spare gear or clothing.  Installation is a breeze with only a slight mod needed on FLTR and FLHX bikes by relocating the antenna.
Progressive Suspension 490 Sport Series Shocks
Like to get a little aggressive cruising around town or on the backroads?  If so, you know how critical solid and dependable rear shocks are to your bike's handling.  But the budget doesn't always allow for upgrading to the best of the best.  Progressive Suspension has taken notice of this predicament and aims to solve it with their new 490 Sport Series Shocks.  The 490's are a low-cost entrance into the sport performance world for your Harley.  Running around $600 for a pair, it's hard to beat their value.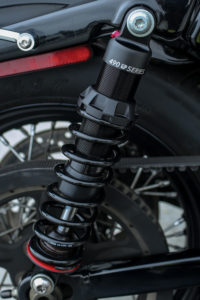 Progressive Suspension is "The" go-to aftermarket suspension brand in the business.  They have made a name for themselves by producing solid, dependable and performance oriented suspension components for years.  The 490 Sport Series is no different.  They feature a high-pressure monotube with deflective disc-damping technology.  Adjustments can be made via hand threaded pre-load and rebound adjusters.  The linear spring rate makes it easy to fine tune your adjustments and it also allows the shocks to withstand extreme temperature changes and heavy loads.  To smooth out the ride even more and to control bottoming, the shocks feature an engineered jounce bumper and cup.
Roland Sands Design Boss & Traction Floorboards
Roland Sands has become one of the premier bike builders and his work can be seen all over the motorcycle world.  His bikes are a perfect blend of performance and style.  Fortunate for us average riders who can't get a commissioned bike from Sands, his company Roland Sands Design produces aftermarket parts that feature his unique style and performance capabilities.  And the new RSD Boss and Traction floorboards hold up to that reputation.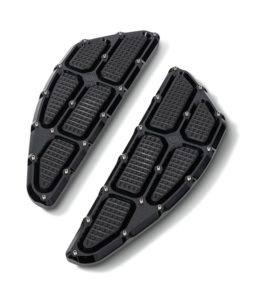 The Boss and Traction floorboards are CNC machined from high quality billet aluminum.  They feature knurled rubber inlay for a grippy surface that also dampens vibration.  Both the Boss and the Traction boards are offered in either Black Ops, Contrast Cut or Chrome finishes.  The Traction boards include upward facing set screws to give your boot and even grippier surface for aggressive riding.  The driver floorboards measure 14" long and 4.5" wide.  Also, both styles of RSD floorboards have matching passenger boards that measure 10" long and 4.25" wide.
Burly Brand Waxed Canvas Tank/Tail Bag
Harley luggage and leather seem to go hand in hand, even if the leather is synthetic.  But there are other options available.  Notably, the new Burly Brand waxed canvas tail/tank bag provides a great alternative. Much like premium leather, waxed cotton will develop a patina as it ages, giving it excellent character.  The waxed cotton will also resist water well, though it is not waterproof.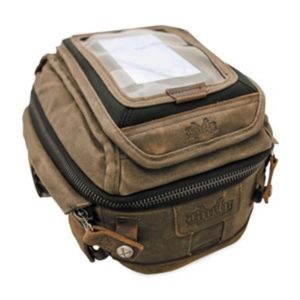 Though the waxed cotton chassis provides a unique look, this Burly Brand bag also provides excellent functionality.  Mounting the bag to your bike is made easy with the magnetic system and D-ring anchor points.  With the tail mounting accessory flange, the bag can be mounted with ease to the luggage rack as well as the tank.  The flange accessory clips and cinches down to the back of your seat.  It measures 11″ tall x 6″ deep x 11″ wide bottom and 8″ wide top.  It can certainly fit an ample amount of your gear.