The half helmet.  This style of lid isn't usually the main focus for helmet manufacturers.  Their real money makers are traditionally in the full face category.  But that doesn't mean that there aren't ever any advancements in the half category.  With not much real estate to work with in a half helmet, it's hard to improve on the design, though.  A helmet designer needs to get really creative to make a substantial upgrade.  This year, a couple brands have taken on the challenge and have really changed the game with their new models.  The Sena Cavalry and the Scorpion Covert are worth a second look for this riding season.
Sena Cavalry Half Helmet with Bluetooth Communicator
Half helmets and communicators have had a difficult relationship over the years.  The low profile design of the helmet style makes it a bit difficult to mount a communicator to it.  With a half lid, riders have to struggle finding a convenient location to actually mount the unit and then there is the struggle of mounting the microphone as well.  Sena, known for their industry leading communicators, have noticed this struggle and have aimed to eliminate it with their new Cavalry helmet.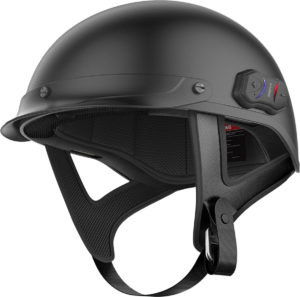 The Sena Cavalry features a built-in low profile, Bluetooth communicator unit, speakers and a microphone.  That means no hassle of trying to mount anything to your helmet.  It's all in there and it's low profile.  Being that the Cavalry is made by Sena, it's no surprise that the unit is feature rich and works extremely well.
As an intercom unit, the Sena can be paired universally to up to three other units.  While paired with all of the other units, you can talk with each other person individually or all together.  The range of the unit is up to ½ mile in open terrain.
With the Bluetooth, you can also pair the unit with a mobile phone for both music and hands-free calling.  You can also pair with your GPS or an MP3 player.  The device has a playlist sharing functionality too, allowing you to share your music with your riding partners.  If you want to see what is on the local radio, the unit comes with an FM tuner with a 10 station preset and auto scan.
To control the unit, you can use the built-in module on the side of the helmet or you can use voice commands.  For the best acoustics, the HD speakers feature Advanced Noise Control and Wind Noise Reduction.  These features help to reduce the amount of wind and road noise that you hear through your speakers, while also providing you with crystal clear audio from the device.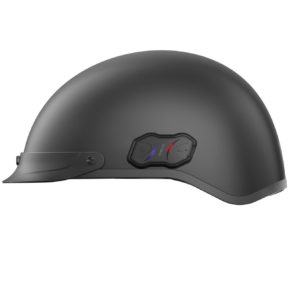 As far as the actual helmet goes, it's very comparable to some of the other leading half helmets.  With a low profile design and a weight of only 2.2 pounds, the Cavalry's size and fit is what everyone wants in a half helmet.  The shell is made from a composite fiberglass and on the inside you will find a removable and washable head liner.
In recent years, the idea of "transformer" helmets has become a hot one.  These helmets are able to be converted into multiple configurations to work best for a few different riding situations.  The "transformer" idea had yet to really be explored with half helmet, until now.  The Scorpion Covert helmet is a half helmet with a whole lot of extras.  The Covert can be converted into three different configurations: a true half helmet, a ¾ style lid and into a full-face style.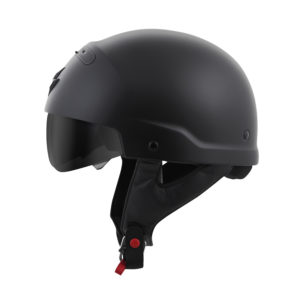 In its base form, the Covert is a highly competent and well styled half helmet.  It features an Advanced LG Polycarbonate shell, which was developed exclusively by Scorpion to be very light and able to better disperse impact.  The aero-tuned ventilation provides ample air-flow to keep your head cool and dry without being noisy.  To protect your eyes, the Covert features a drop-down sunvisor as well.
The attributes listed above make the Covert a solid half helmet, but there is so much more to it.  For a little added protection and coverage, a rear comfort sleeve can be installed to transform the helmet into a ¾ style lid.  If you are riding through an area with a lot of road debris or if you just want a real bad ass helmet, install the front mask portion.  The mask gives off the look of a full face helmet and provides protection from flying debris, though it does not aid in impact protection.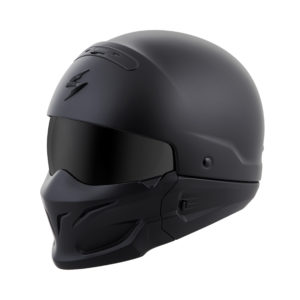 Installing and removing the comfort sleeve and the mask are simple enough that you can make the change with a quick pull over.  All it takes is a few clicks and you're helmet will be completely transformed.  The Covert comes with a smoke sun shield installed, but a spare clear shield comes with the helmet and can be swapped out for night riding.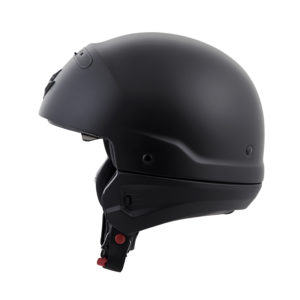 In a segment of gear that doesn't usually get constant updates, it's nice to see the half helmet get some special treatment this year.  Both the Sena Cavalry and the Scorpion Covert lids present something completely new and riders will surely take notice.
Check Out All Motorcycle Half Helmets