Who doesn't love performance.  We love to talk about it and we love the way it feels when we twist the throttle.  But not everyone knows where to start in order to maximize the performance of their machine.  Knowing what parts to get and what adjustments to make can be a challenge.
Many riders start with a Stage 1 upgrade, which is a great first step.  But what if you want more than that?  The next step is a Stage 2 upgrade consisting of swapping cams along with doing the Stage 1 upgrade.  This step does require some internal work and in turn, you need to have a bit more confidence in your wrenching skills if you are to do it yourself.  If that is too much of an undertaking for your abilities or tool set, you can also bring the parts to your trusted mechanic.  You just need to decide on all of the best parts needed to make the upgrade.
S&S Cycle is looking to make that search an easy process with their new Harley Performance Kits.  The S&S kits include all of the parts you need to complete both Stage 1 and Stage 2 upgrades.  That includes improving your engine's airflow with a high flow Stealth Air Cleaner and a set of Grand National Slip-Ons for Stage 1.  On the Stage 2 side, the kit includes bolt-in cams, premium tappets and Quickee Pushrods.  All of these components are designed to work with each other, eliminating all guesswork of compatibility.  And best of all, you will save several hundreds of dollars by buying these parts as a package.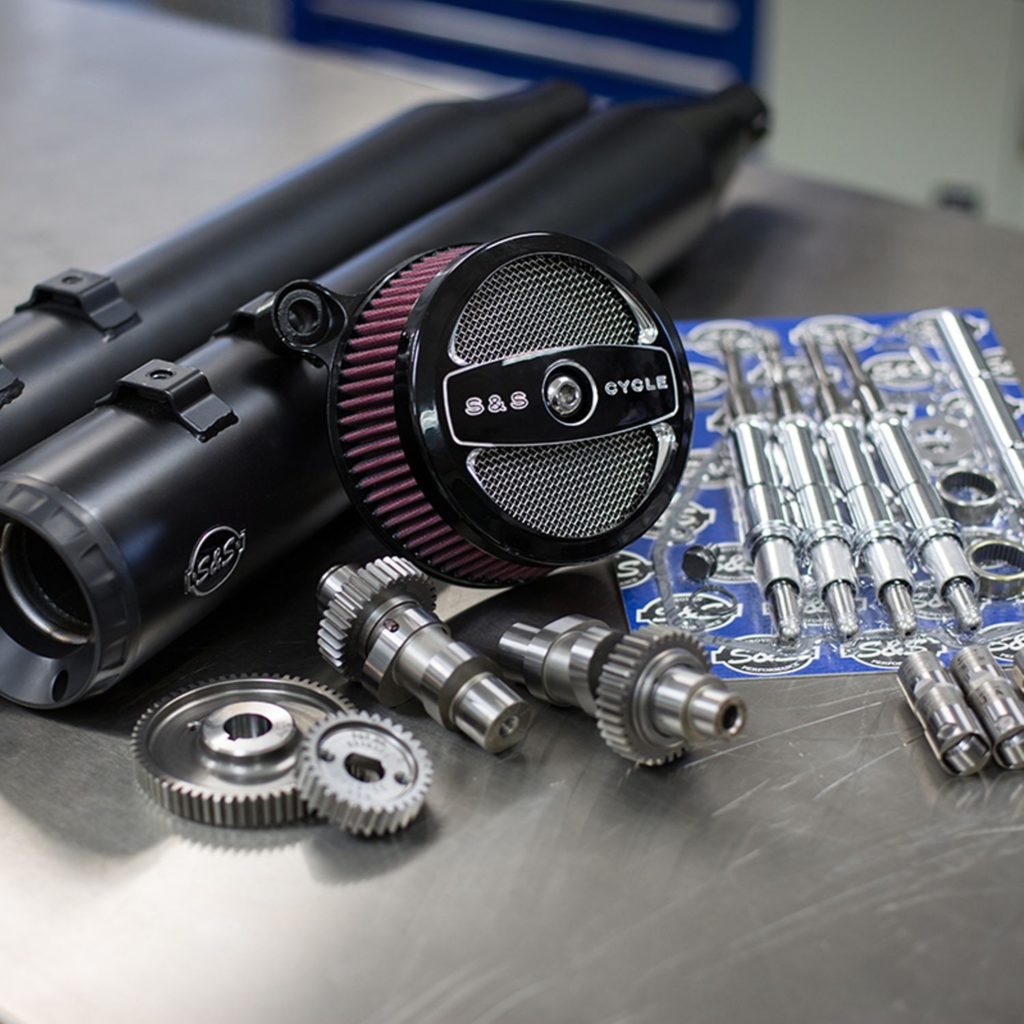 Learn more about each component and what benefits you can expect from each below.
Stealth Air Cleaner w/ Air 1 Cover
The first step in any performance upgrade should be getting the mill to breathe more freely.  The S&S Stealth Air Cleaner does just that.  The Stealth allows more air to enter the engine compared to the stock cleaner.  This alone can boost your output up to four horsepower compared to stock.  Your stock air cleaner cover can be used with the Stealth for a sleeper look, but this kit also includes the stylish Air 1 cover.
Grand National Slip-Ons
Finishing out the Stage 1 portion of the kit are the Grand National Slip-Ons.  These race-inspired mufflers allow the extra air coming in from the air cleaner to move more freely out of the engine as well.  The combo of the Stealth Air Cleaner and the Grand National Slip-Ons will create up to 12% more horsepower and up to 6% more torque over your stock setup.  There is a removable dB reducer that allows for sound and back-pressure tuning.  Though this is a performance kit, the Grand Nationals will also upgrade the tone of your exhaust to more of a deep rumble.
Bolt-In Cams
Now we get to the heart of the Stage 2 upgrade.  You will see the biggest performance difference with these new Cams installed.  There are several different types of cams you can choose between in these kits.  They include the 465C, 475C, 509G, 510G, 585C, 551CE and MR103CE Cams.  The cams you choose will depend on what model you have and what type of performance gains you hope to achieve.
Upgrading your Harley's cams is a way to get serious power and torque gains and also a way to get those gains where you want them.  Each set of cams is designed and optimized to improve your bike in a specific area.  Want more torque, there is an S&S cam for that.  More top-end horsepower, there is one for that as well.  You can also choose a cam setup to improve all aspects on a more even scale.  With the S&S cams, you also have the choice between the traditional chain-driven style or you can swap to the gear-driven cams for more accurate valve timing.
Quickee Adjustable Pushrod Kit
With the installation of new cams, you need to also remove the old pushrods.  S&S includes their Quickee Pushrods in the performance kits to make the reinstallation process and any future work much easier.  If you ever plan on going back into the lower end of your engine, adjustable pushrods are the way to go.  They can be removed and installed much faster and with less labor than the traditional style.  This can save you some serious labor costs on any future work being done.
Premium Tappets
Another must when upgrading your cams is to install new tappets.  And guess what?  S&S includes their premium tappets in the kit as well.  These lifters provide a close tolerance, which reduces leak-down rates and creates fast pump-up and superior high rpm performance.  The tappets are able to accomplish the close tolerance due to the precision machining and the use of a low mass, bearing grade, silicon nitride check ball and check ball spring.
With all of these upgrades together in one kit, you are sure to see the true performance increases that you crave.  And because all of these parts come together in a kit, you are saving several hundred dollars.  The work can be done by a well-equipped home mechanic, but because a press is needed, you may be better off bringing it to your dealer or trusted mechanic.  A fuel remapping will be required to get the optimal performance from the S&S Stage 2 kits.
Check Out All S&S Performance Products