Power steering on an ATV or UTV may not be a feature that you think is a 'must have'.  And for a lot of riders it isn't a must.  But power steering is for sure something that can make your rides a lot more pleasurable and less tiring.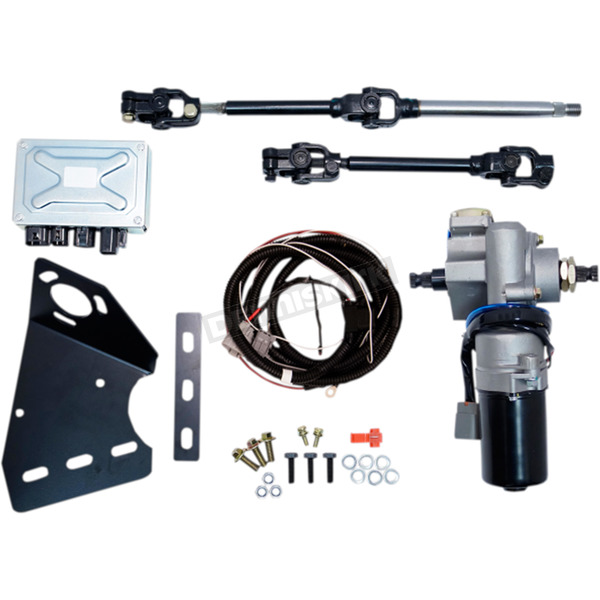 The fact that many new wheelers now offer electronic power steering as an option is proof enough that it can improve your riding.  Understandably so, though, the box for EPS on the order form often goes unchecked in an effort to save some dollars on a new machine.  You've been riding without it for so many years already, so why get it now?  You'll find the answer to that the first time you ride someone else's machine that is equipped with EPS.
Riding an EPS equipped ATV or UTV proves to have a variety of advantages.  The most important one is that it drastically reduces the amount of feedback from the wheel/bars to your hands and arms.  This leads to greater control and less fatigue.  With less fatigue, you can ride longer and harder and not be as sore the next day.
Yes, power steering does make it easier to turn and point the wheels where you want to go, but the greatest advantage is that it prevents the wheels from being pointed where you don't want to go.  The EPS acts as a damping system to absorb major impacts and smooths out the feedback unlike the harsh feedback of a non-EPS system.  We've all experienced hitting that large log or rock and having the bars or wheel jerked to one side.  A bar to the side of the gut is never pleasant.
With the reduction in jerkiness due to the damping of the EPS, you gain much more control over your machine, even in the roughest of terrain.  You no longer have to fight your machine through every obstacle.  You can just flow through the terrain.  Getting stuck in ruts becomes almost a thing of the past with the assistance of the power steering.
So what do you do if you chose not to include the power steering option when you bought your machine?  Luckily, there is a growing number of off road companies like Moose, Quadboss, and more that are now making aftermarket electronic power steering kits for ATV's and UTV's.  The price is about the same as most manufacturer's option price, if not less.
The aftermarket kits are bolt-on and can be done by most do-it-yourself mechanics at home in a good day's worth of work.  There is no modification needed to install most of these bolt-on kits, which should give you a little more peace of mind if you are apprehensive of major mods.  The EPS components mount up and out of the way so that they are not noticeable on the machine.
So don't worry if you or the original owner chose not to add the power steering option to your machine.  You can add an aftermarket Electronic Power Steering kit to your ATV or UTV yourself.  Your shoulders will thank you when you do.
Find Power Steering for Your ATV/UTV