For many, the ride ends when the sun goes down.  But if you are one of those riders who just can't get enough, there is a way that you can see better and go all night.  The recent advancements in LED technology have made their way into the off road world and have completely changed the game.  These lights are extremely durable and can hold up to the abuse that off road riding can dish out.  Plus, they are extremely bright and far reaching.  You can hit the throttle confidently because you can clearly see all of the obstacles in your path when you have your machine fully rigged.
Your stock lights do a decent job, but they are not really meant for performance riding at night.  When you want to put the throttle down, you can quickly "outrun" your stock lights.  The depth and peripheral flooding that they put out is just not great enough to see everything when you're riding off road at a good pace.
New LED lights are the answer to either aid or completely replace your stock lights.  Companies like Rigid Industries, Lazer Star and Seizmik all produce a wide variety of lights to light the way.  The different styles of lights include light bars, clamp mount lights and permanently mounted lights.  Each of those styles of lights come in either driving lights, spot lights, flood lights or a combination of the latter two.
For the best experience, a combination of all of the lights can make it seem like you're driving during the daytime.  The spots are great to see well in front of you with their intensity and focused light.  The floods work great to see all around you with a softer, yet wider light.  If you're wanting to go fast, but can only choose one, the spot is probably your best bet as it will allow you to see farther.
Installation of these lights is fairly straightforward and can be done with little to no modification.  For light bars, the most popular position is on the top roll bar/roof right above the cab.  This position allows the light to provide a fairly wide spread.  This location, though it is actually not recommended.  When the lights are above eye level, they can cause an excess of reflection when going through fog, dust or smoke.  The lights mounted above you will need to be turned off to be able to see through those conditions.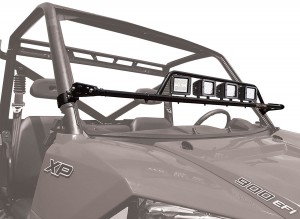 For a better location, light bars can also be mounted on the front bumper, brush guard or can even be mounted to the roll cage directly in front of the riders with bar mounts.  Light bars come in a wide variety of lengths, from 6 in. all the up to over 50 in.
The box style driving lights can be mounted a few different ways as well.  They can be fix mounted just about anywhere on your machine.  The roof and hood are popular mounting options.  If you don't want to put holes in your machine, clamp mounts for the roll cage are the way to go.  The clamp mounts also make the lights more versatile and allow them to be moved about to get the light just right for every situation.  Flood lights mounted low and far apart work great as fog lights.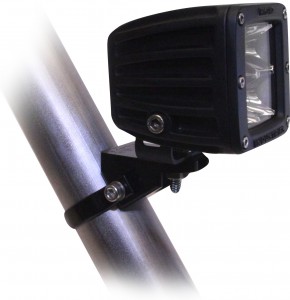 Wiring for these additional LED lights for your side by side is actually fairly easy to complete, even if you're not an experienced electrician.  It's as simple as running the power wires to your battery with the switch and a fuse wired in along the way.  A relay will need to be installed on 24VDC systems, but that does not make the job that much harder.
Because LED's draw such little power, it's likely that you won't have to make any changes to your machine's charging system.  To be sure, though, it's always wise to contact a technician before you make the installation.
So if you're tired of parking your UTV when it gets dark, take a look at some of the latest LED lights.  They add some serious flash to ride and will keep the trails lit up in front of you like the sun is still high in the sky.