Fall motorcycle rides are the best way to take in the fall colors. The leaves change in slow motion, melting into 1000 shades of red and yellow that slowly drip down to the forest floor. The sight of it will never get old. One thing that might get old though, is the crisp fall air. A chilly fall breeze can feel cool and refreshing. Yet, that same breeze felt at 60-70 miles per hour can have a very different effect. That's why the right motorcycle jacket is essential for a comfortable fall ride. Lucky for you, there are some great new options on the market today, perfect for fall riding conditions.
Icon MH1000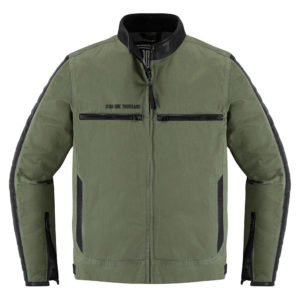 Icon 1000's additions to their motorcycle jacket line has something for every weather condition. The MH1000 jacket is made of textile and leather and is perfect for those of you that experience a mild or warm fall each year. The jackets are outfitted with a warm satin liner, but they are also outfitted with vented cuffs for those early September days.
Icon 1000 Axys 
If you find yourself looking for something a little warmer, you should consider either the Icon 1000 Axys or the Squalborn jacket. Both are great for cold weather, though the similarities stop there. The Icon 1000 Axys is made of leather and has a removable satin liner that helps minimize bulk while holding in the heat. The leather shell makes it both breathable and durable, perfect for a variety of riding conditions. It has a relaxed fit and is less aggressive in its styling.
The Icon 1000 Squalborn
The Icon 1000 Squalborn, on the other hand, has an aggressive styling and is made of nylon. It's both durable and waterproof; it has waterproof zippers and is seam sealed with a DWR coating, earning the highest waterproof rating that Icon 1000 can give. Pair this with the removable insulated liner and you have a combination that is perfect for wet fall weather.
Alpinestars Dyno V2 Leather Jacket
Alpinestars' V2 Leather Jacket looks like a blast from past. The classic style is set on a leather shell and is CE-certified. It has a collar that snaps loose and pre-curved sleeves to reduce riding fatigue. These jackets bring old school style and state of the art safety features together to make an article of clothing that will be perfect for fall weather.
Icon AutoMag 2
The Icon AutoMag 2 Jacket is another great option from Icon Motorsports. It has a durable textile chassis with ballistic nylon paneling on all of those important impact zones. The jacket has arm straps to reduce flapping in the wind, and the waistline has a cinch that will help cut airflow. Pair this with the inner removable liner, and you have a jacket that can easily handle the cold. They also made sure the jacket also has vent cuffs and back vents, in case you end up too hot on your next ride.  
Alpinestars Andes V2 Drystar Jacket
Alpinestars has another great option for you to consider. Their Andes V2 Drystar jacket is perfect for your fall touring rides. The jacket is made of a poly-fabric textile that is both waterproof and breathable. The breathable aspect comes from the newly developed direct ventilation system that has zipper sealed chest air intakes and back exhaust ports. While you might not need this feature on a chilly winter day, you definitely won't mind having it on a warmer one! The jacket is outfitted with CE-certified elbow and shoulder protectors, as well as padding on the chest and back. But where this jacket really earns its place on the list is in the liner. This jacket is outfitted with a long sleeve thermal liner that is sure to keep you warm even on those frosty fall mornings.
Fall riding is beautiful; just make sure that you are properly equipped to enjoy it. These new motorcycle jackets are the perfect option; all are warm and protective.  And while they are all quite different, they have one thing in common: Exceptional style. If you have any questions or thoughts on the jackets being discussed, let us know below in the comments. Thank you for reading, stay warm out there.
Latest posts by Dennis Kirk
(see all)