When you and your passenger hop on your Harley to go for a ride, you do it to feel alive, to feel the wind in your hair and the rumble of your bike. One thing that you don't want to feel however, are the bumps in the road. It's easy to romanticize riding, but one aspect not worth romanticizing are the teeth jarring, brain rattling holes you hit along the way. Luckily, those headaches can become a thing of the past thanks to these new additions to the aftermarket Harley suspension collection.
Arnott Ultimate Ride Adjustable Air Suspension Shock Absorbers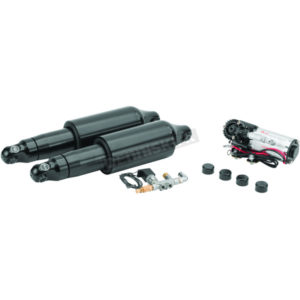 Arnott Air Suspension Products might be newer to the motorcycle industry, but they've actually been making suspension products since 1989. That means that their Ultimate Ride Adjustable Air Suspension Shock Absorbers are the culmination of almost 30 years of R&D, and it shows.
These shocks are not some generic shocks that you forced into fitting your bike. These suspension systems have been meticulously designed for your Harley's model and year. These systems will fit like a glove.  Even the air compressor is shaped to fit discreetly on your bike. That little compressor means that you will never have to manually adjust your suspension again. Thanks to handlebar-mounted controls, you'll be able to adjust your suspension with the click of a button.
Your Harley might already be equipped with air ride, but it's nothing like what you are getting with Arnott. The shocks typically found on Harley's are a coil, surrounded by oil. Air is pumped into the chamber, pressurizing the oil, which equates to firmer shocks. Unfortunately, this has to be done with a hand pump and these are limited by the amount of  PSI that they can actually hold. Worse yet, OEM shocks only tend to last for about 10,000 miles.
Arnott shocks, on the other hand, have true air springs that are operated by a switch on your bike. For example, say you just picked up a passenger. Simply press the button and your suspension will be adjusted in seconds. They even have adjustable shock damping, meaning you'll get the perfect feel for you and your riding style. These systems are made and tested in the good ol' US of A, and they offer a limited lifetime warranty, so you know you'll be taken care of when using their products. These aren't the easiest at-home DIY project, but they come with great step by step instructions that can make this into a very manageable task. We consider these shocks to be a top notch option.
If you don't want air ride suspension, or the price tag that comes with it, don't worry; we have another great option.
Legend Heavy Duty Revo-A Adjustable Shocks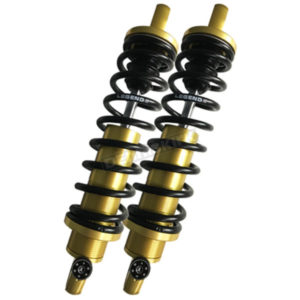 Legend Revo-A adjustable shocks offer a lot of benefits that are comparable to air ride shocks, especially the heavy duty version, which happen to be a new favorite. The heavy duty shocks live up to their name.  They are recommended for 500 + pounds of rider and passenger weight.  
These shocks offer an exceptionally soft ride and their coil has been specially engineered to have a larger sweet spot. They also offer the ability to soften the pre-load, which reduces ride height. These shocks are adjustable, but you won't be able to do it at the push of a button; still, it is incredibly easy.  You won't even need any tools. Simply twist the shock by hand to tighten or loosen it, and you'll be done in seconds. These shocks are a high quality product made right in Sturgis, South Dakota, and they are backed by a lifetime warranty.
New shocks are a great investment when you consider the decrease in your dental bills. You'll be amazed at how much money you'll save when you aren't breaking teeth over jaw-jarring potholes. Maybe that's an exaggeration, but the sentiment stands. A good set of aftermarket shocks is a great investment for you and your Harley. If you have any questions, see something we've missed, or have some advice for your fellow riders, don't be afraid to leave a comment below.
Check Out All Troy Lee Designs
Latest posts by Dennis Kirk
(see all)