The snow has to melt sometime, right?  When it does, it will be mud heaven.  All of us mudders know that some of the best mudding comes in spring when the snow melts and the frost comes up.  In the meantime, this is the perfect time to start preparing your ATV so it will be ready when the polar vortex decides to head north again.
One of biggest gripes about mudding is having the mud stick to your machine.  An ATV can actually gain about 300 pounds of mud if it gets fully packed.  A dirt bike can gain over 100 pounds.  That's a lot of extra weight that you don't have to be hauling around with you.  When you spend all that money on lightweight aftermarket exhausts and other components, you don't want to be adding it back on with mud.  A lot of riders have many different remedies for this problem, but PowerMadd is throwing their hat in the ring to solve it with their Mud Free Foam.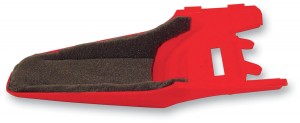 The PowerMadd Mud Free Foam is specially made to repel mud, even in the thickest conditions.  It uses a unique adhesive that will easily stick to ATV and dirt bike plastics and it will last for multiple trips.  The Mud Free Foam comes in a Cut-to-fit kit which makes it easy to customize it to fit any machine.  After the ride, you can either powerwash it or you can even remove it.  With it off, you can keep the foam on hand until you know that you will be hitting more mud holes.  Then it can be reapplied with ease.  The kit has enough foam for one ATV or two dirt bikes.
While the most obvious application for this foam is under the fenders, you can use it anywhere mud can accumulate.  Some other areas on your machine that the Mud Free Foam can be used is on skid plates, guards or even on your helmet visor.  Just cut the foam to the size and shape that you need and stick it on.  When you don't need it anymore, just peel it off of that surface.
Of course, you can't stick the foam everywhere on your ATV or dirt bike.  That's when some of the other remedies can come in handy, like spraying down the rest of your machine with wax.  Lucas Oil Slick Mist Wax helps keep mud from sticking to your wheeler when it is applied.  Plus, it adds UV protection and can be used in direct sunshine.  The slick surface that the wax creates will help the mud slide right off of your machine.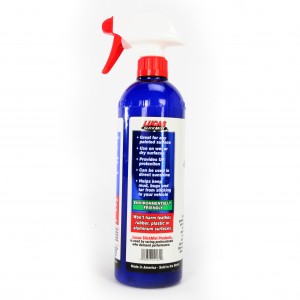 There are other products that riders have found that will help the mud slide off.  Many people swear by using tire foam and WD-40.  These products also work great as a degreaser so your ATV or dirt bike will be spotless.  Of course, you should try to avoid your brakes at all costs when you are spraying your machine down with any kind of lubricant.
What tips do you have for keeping the mud off?  Let us know in the comments below.