The snowmobile industry has been evolving so quickly that trying to keep up with the times will leave your head spinning. So, what should you do? Quit trying! We have already done the work for you. As an industry leader in snowmobile aftermarket parts and accessories, staying up to date on this kind of stuff is literally our job. So, it wasn't much of a stretch for us to take all of this knowledge and gift wrap it in the form of a blog. That's what you're looking at here; an article showcasing some of the most innovative products on the market today. Check it out.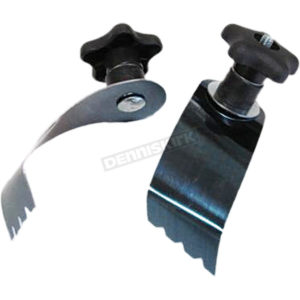 Snowmobiles might be king of the snow, but, the second the snow becomes scarce, they start to under-perform. One of the problems that many riders have, especially those with long tracks, is keeping the sled cool. That's where these ice scratchers come into play. They are easily mounted to the back of your skis; simply drill a hole and screw them into place. They will drag under the ski and rake along the ice or hard packed snow, kicking up chunks of ice and snow into your track. This ice and snow then cools your sled and lubricates your slides. You might have heard of rail mounted ice scratchers; while they accomplish effectively the same thing, we've found that the ski mounted scratchers do it better. These ice scratchers can be used in reverse, meaning no stopping to flip them up when you need to back up. Not only that, because they are located farther forward on the machine, they cover the entire underside of your sled, not just the back half of the track. If Santa needed to cool down his sleigh, he would use Ski-Z's ice scratchers.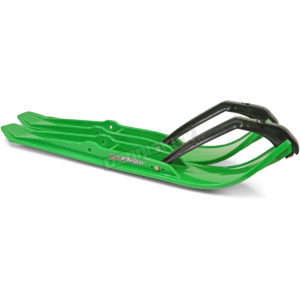 You know that feeling when your sled starts darting around the trail? The ruts from the skis of the rider in front of you can leave your sled feeling like a bucking bronco. While our grandpa used to claim that it was all part of the experience, ski darting is one experience that we are okay with missing out on. That's why we use the C&A Pro Xtreme Performance Trail Skis. These skis have mid-center keel that helps mitigate darting, making it feel like you are the first rider after the groomer, every time.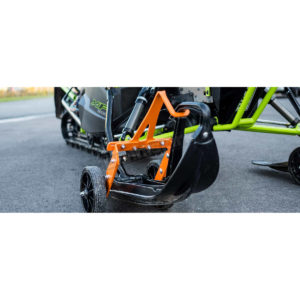 Of course, if you are going to be putting some shiny new skis on your sled, you had better take care of them. Watching riders take their skis over pavement and cement is cringe-worthy, and not just because of the "nails on a chalkboard" sound. That's why these wheels were invented! They attach quick and easy to the bottom of your ski and make moving and loading your sled a breeze without the worry of damaging your garage floors or the wood on your trailer.  Unlike more traditional dollies, the Skisavers allow you to drive the sled at slow speeds.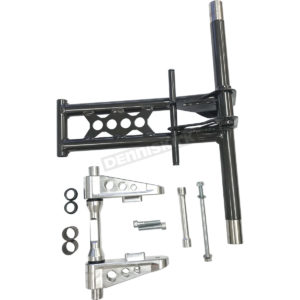 The Skinz T-Motion Delete Kit is only going to be useful for a small segment of you. But, for those few of you, it'll be a dream come true. This part is made specifically for Ski-Doo's with the T-Motion suspension. Ski Doo developed some really brilliant technology called T-Motion, which basically makes leaning and handling in deep snow easier. But, while this effect is definitely handy in deep powder, it's less than ideal for trail riding. It makes the sled less stable on thinner, hard packed snow.  It has also been know to make your sled feel a bit erratic on more technical climbs. If you have T-Motion in your sled and are encountering this erratic feeling, then you are the person that this product was made for. It takes the T-Motion out, improving stability, predictability and trail riding capabilities. This product was built with the user in mind; it's designed to perfectly replace the OEM suspension without requiring any modifications.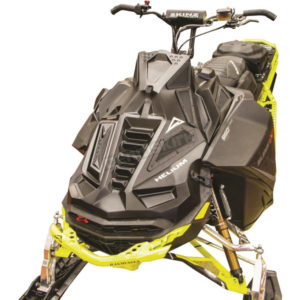 The Skinz Helium Access Hood is a great way to shed a couple extra pounds from your sled and to give your sled an aggressive new look. The vacuum formed hood comes with heated storage and everything you will need for the install. The headlight delete and small included windshield are perfect for hill climb and hill cross sleds. 
Pieps Jetforce Tour Rider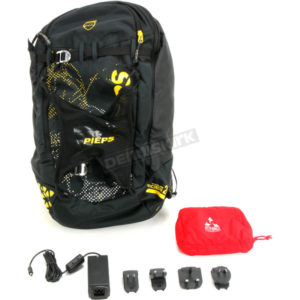 The Jetforce Tour Rider airbag by Pieps is a safety feature that we consider to be an absolute necessity for any mountain riders. Avalanches are no joke, and if you realize that you are under equipped in the instance of an avalanche, then you have realized too late. This airbag will inflate in just three seconds to help you stay on top of the snow. The bag remains inflated for three minutes before deflating. It then deflates creating an air pocket filled with delicious oxygen in the instance of complete snow coverage. The engineers behind this product have truly thought of everything; when you go with Pieps, your life is in good hands.
So, there you have it. Our favorite new snowmobile parts, accessories, and an avalanche pack. Obviously, some of these products will only be valuable to certain riders, but we like to think that there is something for everyone here. If you have any questions about the products above, just ask us! Any questions can be voiced in the comments below. Thanks for reading!  
Check Out Motorcycle Tire Repair Kits
Latest posts by Dennis Kirk
(see all)