We all loved our onesies when we were growing up.  They were all nice and cozy.  And best of all, you only had to worry about one article of clothing.  But as we grew older, we had to give them up to be big boys and girls and wear actual pants and whatnot.  In the snowmobile world, we were left with separate jackets and bibs to choose from.  Wouldn't it be nice to just be able to throw on a onesie again?
Back in the day, the one piece snow suit did rule the roost.  So much so that many of the many sled manufacturers had their own branded offerings.  Whether they were race leathers or made from crude, early textiles, the snow suits of the 70's were cool.  But the onesie design soon fell out of favor as warmer jacket and bib offerings became better and more comfortable.  The one piece suit became a thing of the past, only to be worn on a vintage sled to be "period specific".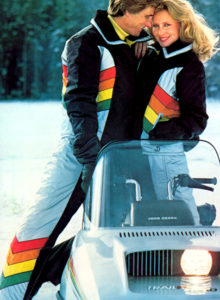 And then, out of the blue, something amazing happened a few years back.  Out in the boondocks, the snowmobile suit reappeared, now better than ever and dubbed the mono suit.  These new onesies did not resemble the manufacturer suits of yore, though.  They were crafted with the latest textiles and were patterned to better fit a rider's body.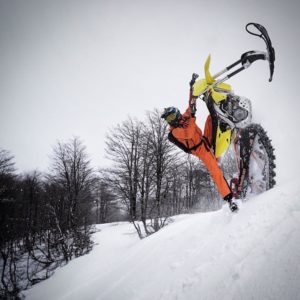 At the beginning of the resurgence of the mono suit, the options were were a bit limited.  But their unique styling and level of comfort caught a lot of rider's eyes.  Today, just about every major snowmobile apparel brand has at least one offering in the mono suit category.  Each provide a great alternative for any hardcore rider who is looking to banish their jacket and bibs to the closet in favor of the onesie.
So why would any rider choose to give up two pieces of perfectly good outerwear for one?  That's a good question and the answer is that not everyone should.  But a mono suit may be the best option for a select group of riders.
That group consists of the boondockers and all-day mountain riders.  The riders that are going to be out in powder all day long.  The "body bag" design provides a couple key advantages over a two-piece set.  First, it provides a consistent "micro climate" for your whole body.  The air is able to circulate, eliminating cold spots and areas of over-heating.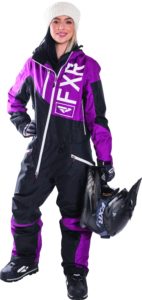 The second major advantage to the mono suit is that there is no way for that pesky snow to fly up your jacket if you happen to take spill in the deep stuff.  A jacket's snow gaiter can only do so much to stop the cold stuff from infiltrating the gap between your jacket and bibs.  With a mono suit, there is no gap.  We all know that a dry, warm rider is a happy rider. +1 for the mono suit.
Being dry and warm is all fine and good, but if you can't move in the dang thing, the mono suit is a failure.  And to the credit of the great designers at all the brands who offer the one-piece, these things are a far cry from their cumbersome ancestors from the vintage era.
Many include internal suspenders to keep the waist where it needs to be.  And the waist fits snug enough to stay out of the way.  With stretch materials, going wrong foot forward is not a problem.  In fact, there is less binding compared to a two-piece set-up.
There are both non-insulated and insulated options available (depending on the brand).  Bring your own layers with the non-insulated suit if you are a more active rider.  If you just want to cruise comfortably or are a freeze-baby, opt for the insulated ones.  Ample ventilation is a universal key component across suits, though some are better than others.
These suits aren't for everyone though.  If you make frequent stops at your local cafes during a day of trail riding, a full suit can become an annoyance.  Instead of just being able to remove a jacket and hang it on your chair, you will have you unzip and deal with the flopping top half of the suit.  Having a suit will also require you to have some sort of spare jacket to be able to go out after a day of riding, unless of course, you are willing to rock the suit out to your favorite watering hole.  Dealing with the calls of nature can also be a bit difficult in a suit.
With those things considered, the mono suits of today may offer the best comfort and mobility of any gear on the market for the serious backcountry and powder riders.  And though the price of the suits may be higher than a single piece of gear, they are almost always less expensive than if you were to buy both a jacket and a pair of bibs of equal quality.
So if you miss those glory days when you could confidently rock onesies, there is hope.  Today's snowmobile mono suits will keep you as happy as a baby, even when you're buried up to your neck in fresh powder.
Check Out All Snowmobile Mono Suits