The scenario plays out one of three ways.
One: You hop off your bike with your typical motorcycle boots and stroll around your destination in those clunky, not-so-great-for-walking boots.
Two: You ride with your casual shoes already on so that you can walk around in the proper footwear.  The only problem is that if you go down, you might not be walking anywhere for a quite a while.
Three: You get to your destination and awkwardly change out of your riding boots into your shoe of choice and have to deal with storing your boots away in your bike's luggage.
But there is a fourth option for all you motorcycle commuters out there.  The "Incognito Moto Shoe" style provides all the protection you need for cruising the town, yet the style and comfort you need when you reach your destination.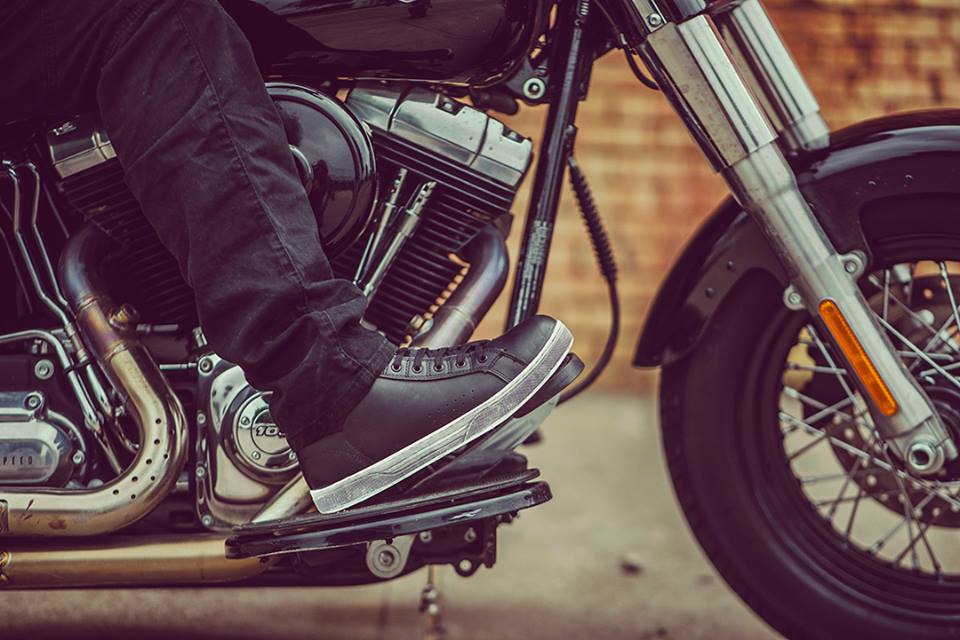 As of late, the demand for casual motorcycle footwear has been on the rise.  Many of the gear manufacturers have taken notice and have produced their own offerings.  The convenience of being able to stay in the same pair of boots or shoes on and off of the bike is something that interests many riders.  Listed below are some of the latest and greatest offerings of moto shoes that perform on the bike and look the part once you put the kickstand down.
So often, the work boot doubles as a riding boot.  Though work boots are durable, they do lack the protection necessary for riding.  The Speed and Strength Overhaul shoes combine that familiar work boot look with the protection and features that you need for riding.  Fans of the classic Red Wing boots are sure to be fans of the Overhauls as well, which share similar styling cues.  The difference, though, is in the moto-specific features.  These include the molded internal toe and ankle reinforcements as well as the side zip entry.  The Speed and Strength Overhaul shoes are at home in the workplace, out to dinner and most of all on the bike.
For a far more casual option in the Speed and Strength lineup, be sure to take a good look at the Soul Shaker Moto shoes.  These skate-style shoes keep it casual for wherever you end up on your bike.  Unlike real skate shoes, the Soul Shakers rise up over the ankle to offer the necessary protection.  The toe also features molded internal toe reinforcements.  These moto shoes are skinned with premium top grain leather that will break in and look great as they age.  The Soul Shaker Moto shoes are offered in both brown and black.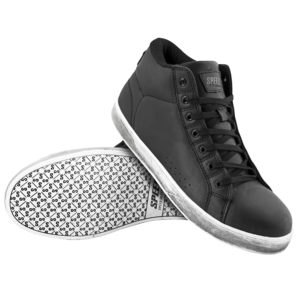 Alpinestars is certainly one of the pioneers of the casual moto shoe movement.  As one of the most prolific producers of moto shoes, A'stars has a ton of options available.  But it's a few of their latest options that really stand out.  The Rayburn riding shoes are what happens when Italian design meets moto-specific protection.  As part of their vintage inspired Oscar line, the Rayburn shoes are all about having your look on point.  The full-grain leather upper is finely crafted and will age gracefully with the proper care.  They are a great shoe for both business casual workplaces and a night on the town.
But they are more than adequate for the ride to and from on your bike.  They carry a CE category 2 certification.  You will find double-density, TPU ankle protector discs on both ankles with padded upper and back for support and comfort.  The toe box and heel counter are reinforced as well.  A 3D mesh lining helps these shoes breathe to keep your feet cool and dry.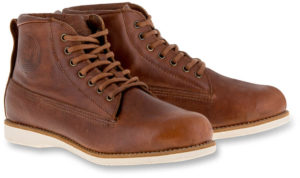 Just like the Rayburns, the Parlor riding shoes have style for days, yet bear zero resemblance to traditional motorcycle footwear.  Wear these shoes with your suit or with some nice jeans without anyone the wiser that you are sporting moto boots.  The Parlors carry the same CE certification as the Rayburns with all the same safety features.  The Parlor shoes, however, also feature a Drystar waterproof, breathable liner.  So if you do happen to get caught in the rain on your way to the office, your feet will stay nice and dry.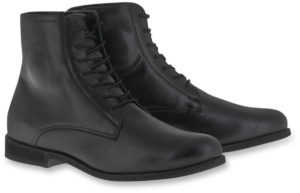 If you're more of a sneaker type of guy, be sure to check out the Icon Stealth Tarmac 2.  The Tarmac 2 shoes resemble your favorite athletic shoes.  The murdered out black look keeps these shoes low key and give few cues about what their purpose really is.  The geometry of the Stealth Tarmac 2 shoes is influenced by traditional sportbike boots.  That design provides excellent comfort and control on your bike.  They carry CE approved certification as well, making them a true riding shoe.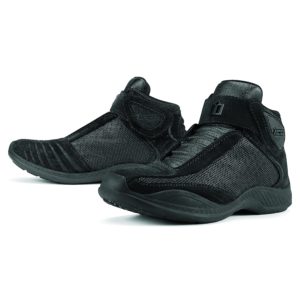 There is no other shoe in the world as popular as the good ol' Chucks.  Those canvas shoes, however, have no place on a motorcycle.  The Cortech Vice riding shoes pay homage to those classic shoes, yet are built to keep your feet and ankles protected on a bike.  The chassis is constructed with a combination of water-resistant leather and heavy duty canvas.  That, combined with a HiPora waterproof, breathable membrane liner will keep your feet comfy all day.  Protection comes from Italian TechnoGI Thermoplastic heel cup and toe cap along with molded nylon ankle guards.  Pair these with your favorite moto jeans and you're ready for a night on the town.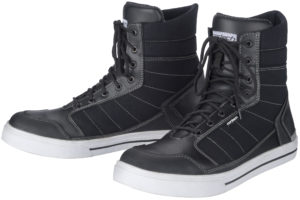 Check Out All Motorcycle Boots