Touring on a Sportster
As an owner of the iconic cruiser, you know the joys of taking your Sportster for shorter jaunts.  It's made for zipping around city streets and cruising through your favorite local twisties.  But the Sportster is capable of so much more. With a few additions and modifications, it can be transformed into a competent touring motorcycle.  A bike that can keep up with the bigger, purpose-built Baggers.
Even Harley believes that the Sportster is capable of long miles.  Their Sportster 1200T was introduced to help fill the void as a light touring model.  Don't feel like you need to have the 1200T to go touring on your Sportster, though.  Check out the add-ons and modifications listed below.  They can turn any model Sportster into a touring bike capable of big miles on the open highway.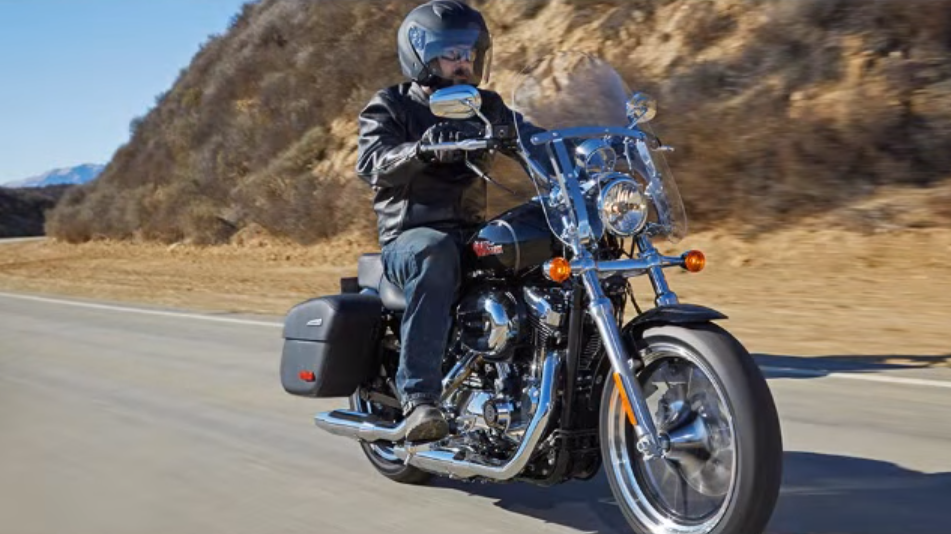 Going for a long haul requires you to pack some necessities to get you through the days of riding that are ahead of you.  Unfortunately, most stock Sportsters have minimal storage space, if any.  There are, however, plenty of aftermarket luggage options available to provide the storage that you need for long rides.  Removable saddlebags mounted on supports provide a good starting point for a luggage option.  Not only do they provide ample storage, but they are removable, allowing you to return your Sportster back to its cruiser form.  Removable bags also allow you to take them with you once you reach your resting point at the end of a long day of riding.  Adding a luggage rack to the rear fender provides even more room for you to strap extra luggage to your bike.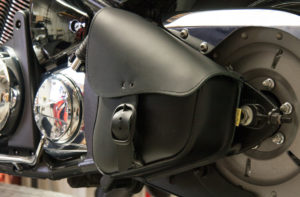 While a windshield may not be that sexy when you are hopping from joint to joint, it is certainly a welcome addition out on the highway.  Without one, the wind can become your enemy fast.  Fatigue can quickly set in and make the ride miserable.  A proper windshield keeps the wind off of you by reducing buffeting to a much more manageable amount.  With clean air filtering up and over the shield, it makes breathing easier as well.  Also, it will keep pelting rain off of you if you get caught in a downpour.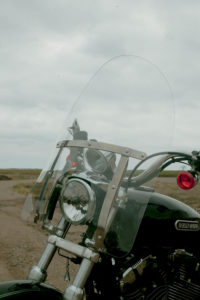 When you're putting in some serious seat time, you need a saddle that will support your back and provide excellent cushion.  While the stock seat may work great for some riders, it is often not the best choice for touring.  An aftermarket seat with back support and ample cushion will allow you to stay in the saddle for far longer.  If you like your seat, a seat pad, like ones from Airhawk and Wild Ass, can improve the comfort for longer rides.  They can also be removed with ease to return your bike back to its stock setup for shorter cruises.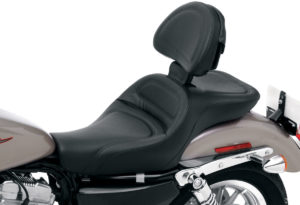 The primary use for highway bars is to protect your bike in a laydown.  But they can also provide relief for your cramped legs.  Staying on the mid-controls for the entirety of a long ride can cause cramping and discomfort.  Highway bars outfitted with pegs allow for a stretched riding position for the times that you do not need to be on the controls.  Wind/rain protectors can be mounted to the bars to keep your feet warm on cool rides and dry when it starts to rain.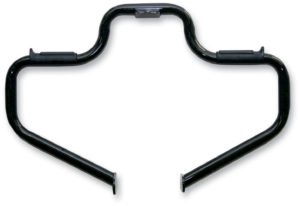 Sportsters aren't necessarily known for great range.  That's especially true if you run a chopper-style peanut tank on yours. An extra fuel container provides the added insurance you need when you are miles from the nearest gas station.  Hauling fuel containers on your bike can be a pain or just impractical if you do not have a purpose-built container.  MSR fuel bottles are no bigger than a thermos and will fit nicely into your luggage.  If you would like to carry a bit more gas with you, the Reda fuel can is designed to be the shape of most H-D style saddlebags.  The spill-proof container can be tucked in the back of your bags. With it, you will have a gallon of gas at-the-ready if you happen to run out in the middle of nowhere.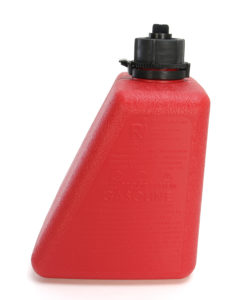 Suspension Adjustments
The added weight from the luggage and accessories will affect your motorcycle's suspension.  Your ride sag will no longer be set properly and the suspension travel and handling of the bike will not be ideal.  To fix this, adjust the preload and damping to compensate for the added weight.  If you're not sure how to adjust the preload, be sure to check out our article on motorcycle suspension tuning.
There's a lot that can happen on a long ride.  A simple tool kit can save you from a long walk or expensive tow truck call when you are hundreds of miles away from home.  Most Harley tool kits should have most of what you need to make a roadside repair, but it is good to double-check.  Before you leave for your trip, go over the bike and choose the wrenches and tools that fit on the parts that you may need to work on.  A tire repair kit can also get you back to town if you get a flat as well.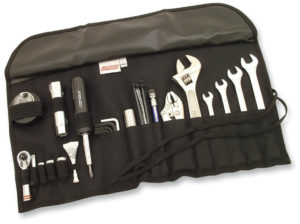 6-Speed Overdrive Kit
Cruising at open highway speeds on a stock 4- or 5-speed gear set can leave you searching for a gear that you just don't have.  Running at those higher speeds can lead to increased vibration and a not-so-good fuel economy.  To resolve that issue, companies like Baker Drivetrain have developed a solution.  6-speed overdrive kits give you that extra gear to work as an overdrive.  The result is lower RPM at higher speeds, which causes less vibrations and a better fuel economy.  You will be able to ride comfortably for longer periods of time without having to stop as much to gas up.
So don't let all of the big bikes have all of the fun racking up miles.  With a few changes, you can be out there with them, taking in the countryside on your Sportster.
Check Out All Sportster Parts & Accessories