We're half way through this year's riding season.  By now, you've surely put on some decent miles and you've gotten the feel for your bike.  You know the things you like about it, but also the things that you would like to change.  Fortunately, the aftermarket is always strong for Touring Harleys.  You can modify your bike in whatever way you would like, whether it's to make more power or to make it more comfortable and better looking.
Though there are some staple products that persist to be popular in the aftermarket selection, new products are continually being released.  And with these new parts and accessories, you can customize your bagger to perform and look like an all new machine.  Listed below are a few of the new Harley Touring parts that can make you're bike even better.
Bikeman Hellbent Industries Headers
Over the past decade, Bikeman Performance has built up quite the reputation for creating products that deliver peak power and performance for snowmobiles and UTVs.  One of the areas that they are best known for are their exhaust systems.  And with their success in the offroad and snow markets, they are now looking to bring that level of performance to the streets with their Hellbent Industries Headers.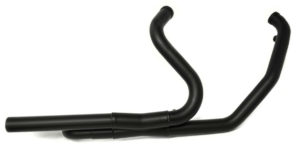 Built for '09 and up Touring Harleys, the Hellbent Headers are a direct replacement for your stock headers and use the stock heat shields and hardware.  This is perfect if you want to keep the original look for a sleeper bike.  With a gain of 10-14 HP and 12lb/ft of torque on both 110" and 103" engines, you will get the boost you're looking for.  The headers utilize a 2-into-1 "X-Pipe" collector design to maximize the air flow performance.  They are available in either ceramic chrome or black for cooler operating temps and are compatible with just about all slip-ons built for your Touring Harley.
Sometimes it's the small details that can make all the difference in the way a motorcycle looks.  With the late model Batwing fairings, there is a not-so-smooth transition between the fairing and the headlight.  The square-ish cutout of the fairing just does not jive all that well with the round Daymaker headlight.  The Ciro Fang Headlight Bezel aims to fill that void to make a smoother transition between the fairing and the headlight.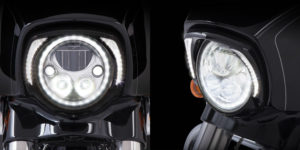 Not only does the Fang Headlight Bezel fill the void for a smooth transition, but it also incorporates curved, fang shaped LEDs that wrap the headlight.  These bright white running lights add lighting performance as well as an aesthetic appeal.  The bezel can be mounted to your bike without any modifications and can be plugged into your accessory port for power.  The lights automatically turn on and off with your headlight as well.  The Ciro LED Fang Headlight Bezel is available in either Chrome or black.
Fox Racing Shox Adjustable Shocks
How has your bike been handling so far this year?  Is it soaking up the bumps like you had hoped?  If it's not, then the legendary performance of Fox Shox could help you out.  Fox recently released a line of rear shocks for Harleys and they have been met with nothing but excitement.  Fox is known all over the world for their innovative and high quality shocks for offroad and snow vehicles, but now they are heading back to the street world with the IFP R Harley shocks.

Adjustability and quality components are the name of the game for the Fox IFP R shocks.  Preload on the IFP R shocks can be adjusted by hand, making adjustments on the fly fast and easy.  Dampening is also fully adjustable as well, allowing you to further dial in your rear suspension for the optimal handling and suspension.  The shocks use an internal floating piston in a gas charged mono-tube.  Damping is velocity sensitive, which provides accurate responses to road imperfections.  The shocks are available in either 13" or 12" options.
The detachable hard bags on your Touring Harley are one of the features that make it so great. You can take your bags off to make packing them up much easier.  The only problem is that they tend to tip over and are unstable when they are off of your bike.  You're forced to either lean them up against something or lay them flat.  Neither is ideal and you run the risk of tipping them over and scratching the finish.  The solution is simple.  The Reda Saddlebag Dock.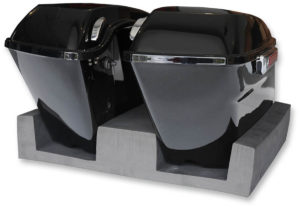 The idea may be a simple one, but it is also a great one.  The dock is made from closed cell foam and will hold your hard bags upright without any worry of damaging the finish on them.  They are designed to fit the contour of the bags and to hold them tightly, even when the lids are open.  The Reda dock is the perfect solution to keep your hard saddlebags looking nice and upright when they are off of your bike.
Drag Specialties Stretched Bolt-On Tank Cover Kit
Have you been drooling over those stretched custom baggers?  The look is awesome, but the price tag is not so much.  The Drag Specialties stretched bolt-on tank cover kit allows you to obtain that custom look without any major modifications and price tags.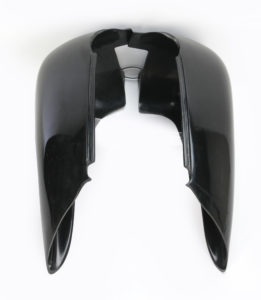 The tank cover kit simply bolts on over your existing gas tank to provide that stretched look.  There are no major modifications necessary either, so you can go right back to stock with no problems.  The cover is constructed of injection-molded polyurethane, which requires very minimal prep before being painted to match the rest of your bike.  The stock Dresser dash can still be used with the tank cover as well.  Everything you need to install the cover on your bike comes in the kit.