Crusty. That's a word that describes a lot of machines at this point in the year. After all, who really wants to take the time to scrub down their steed after a long day of riding? The mud and bugs get caked on and your ride becomes crusty. It's not appealing and it's not good for your paint, seals, bearings and more.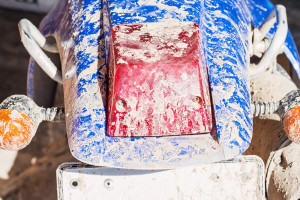 At some point, you do have to clean it, though. And of course, we all love power. Many of us wheel out the pressure washer to blast all of the crud off. It's fast and fun. But it can also be damaging. Aside from ripping off your nice graphics and stickers, getting overzealous and careless with a pressure washer can wreak havoc on your bearings, greased connections, seals, chain, radiator and electrical connections.
Instead of just re-greasing the bearings, you'll be replacing them if they go unnoticed. If you're an avid power washer, you may have noticed that your machine will run poorly right after being washed. If that's the case, you've likely blasted some water into an electrical connection related to the ignition. You'll be really familiar with dialectic grease if you keep washing this way.
If you've always been a safe washer, you probably go at it with a bucket of suds and wash mitt or sponge. This works great, but it can be a pain and it takes too long to accomplish. The one upside is that you are getting up close and personal with your machine and you may discover something out of place that you might normally miss. But that's what regular inspection is for, right?
So what's a rider to do to make that crusty junk go bye-bye? Moose set out to solve this dilemma and has now come up with a product that will make cleaning quick and easy. The new Moose Dirt Foam is what every rider needs to get a serious clean without a bucket of elbow grease or an over powered pressure washer.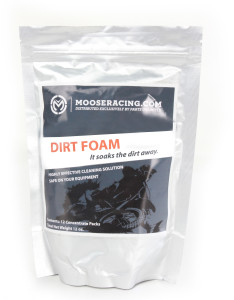 The Moose Dirt Foam solution is designed to be ultra-sudsy to replicate your machine being dropped into a soak tank. It gets everywhere. The fact that it is foamy is also important because it reduces the likelihood that moisture can make its way into bearings, seals and gaskets. It will also stay where it is sprayed on without running off. As a foam, the cleaner can still be effective without needing to use as much chemicals as other cleaners.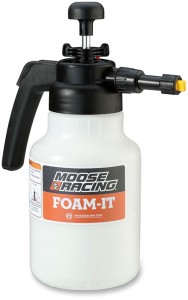 What makes the Dirt Foam solution so effective is the fact that it combines the properties of a detergent, wheel/tire cleaner and a bug remover all into one. Mud, bugs and grime are all chemically released from your machine while the foam is doing its thing. Simply rinsing the foam off before it dries should remove almost all of the debris. You may have to brush some pieces off, but you definitely won't have to do a full scrub down.
There is no film buildup or discoloring left behind after using the Moose cleaner, so there is no "re-cleaning" needed.
When the Dirt Foam is combined with the Moose Foam-It sprayer, the results are even better. The Foam-It sprayer allows you to pressurize the solution enough to lightly spray the cleaner evenly over your machine. Application goes much faster and will also help you to save on solution by being able to apply only the amount that is needed. The combination works great for whatever you ride including motorcycles, ATV/UTV's, dirt bikes and more.
Getting rid of the crust is easy when you use the Moose Dirt Foam cleaner and Foam-It sprayer. Your ride will be spotless and you're fingers won't get all pruney from scrubbing.