You've spent countless hours fine-tuning your Harley's suspension sag to give you the perfect ride- smooth and responsive.  And then your lady friend says she wants to go for a long ride with fully packed luggage.  Suddenly, your sweet suspension set-up that was great for just you is now too soft for the both of you.
Or maybe you're on the other side.  Tuning the suspension is too much work and you just don't want to tackle it.  You've accepted the fact that your shocks are set too hard or too soft.  Any riding is good riding, right?
Sure, you can make it work with your standard coil-over springs, but it's not the best option.  Rear air suspension kits can give you a level precision and versatility that your standard coil-overs can't.  With them, you are able to dial in your suspension in a matter of seconds to accommodate any riding situation.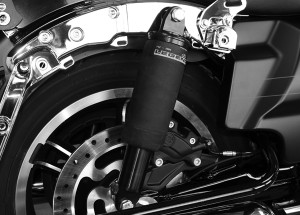 Are you tired of tip-toeing your bike at every stop?  Air shocks are one of the easiest and most effective ways to drop your bike's ride height without sacrificing suspension quality and comfort in your seat.  Air shocks retain effectiveness throughout almost the entire length of the shock.  Because of that, you can significantly drop the bike to fit your inseam, allowing you to safely flatfoot the bike.
And let's face it, bikes with air ride systems always draw the gaze of others as they pass by at shows or in parking lots.  When you have your bike slammed to the pavement, your bike is going to get the attention that it deserves.  There's a reason so many custom sleds have been equipped with air ride.  It's stunning and practical.
In the first scenario with the gal wanting to go for a ride on your bike, the standard set-up lacks versatility.  It can be adjusted, but the effort it takes may outweigh the benefit of a great ride.  With air shocks and a compressor installed, you can quickly stiffen the suspension with the press of a button (no spanner wrench necessary).  On some systems, you can even adjust the rebound with a clicker knob.  The suspension can be fine-tuned in a matter of minutes.
Legend Suspensions, one of the pioneers and leaders in motorcycle air shock technology, provides systems that are easy to install, produce great results and look great.  Legend's Aero rear air suspension systems are extremely compact and mount up to your bike with no major modifications.  They also come with a compressor to make on the fly changes without having to mess with hand pumps and Schrader valves like other systems.  If adjustability isn't that big of a factor, you can opt for the Aero HVG kit, which uses a hand pump.
There is a Legend rear air suspension kit for every Harley family of bikes: Dynas, Sportsters, Touring, Softails and so on.  While they will improve all of these bikes, possibly the greatest benefactors of the air kit are the Softail bikes.  The Legend shocks will just about double the amount of suspension travel.
Installation of a Legend Aero kit can be done by anyone who has at least a little wrenching experience and a way to elevate the bike so that the rear tire is off of the ground (preferably a bike lift).  A seasoned wrencher should be able to have the kit installed within a couple of hours.  A newbie should certainly be able to get the job done in an afternoon.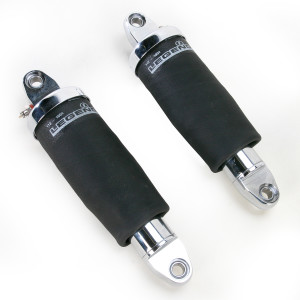 Legend includes fairly explicit and colored instructions to guide you through the job.  Broken down into five steps, the installation process is pretty easy to follow.  Everything that needs to be mounted to the bike is designed to work with existing mounting holes and brackets.  The wiring uses Deutsch connectors to plug directly into the corresponding components and uses standard female terminal leads to attach to the battery.
Operating the Legend Aero system is easy with the handlebar mounted buttons.  One button to increase the air pressure and one to decrease the pressure.  An optional gauge allows you to dial in the air pressure to a precise psi setting.  This makes it easy to go back to the optimal settings for any riding situation.  Setting the rebound is simple with the external clicker knob on the Aero-A shocks.
Having an air suspension kit installed on your Harley can make plush rides in any circumstance possible with the touch of a button and a twist of a knob.  Whether you want adjustability, an easy ride height adjustment or just looks and comfort, Legend Aero rear air suspension kits will deliver exactly what you need.
Check Out All Legend Suspension