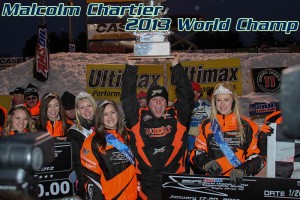 The World Championships Snowmobile race was held at Eagle Derby Track in  Eagle River WI. this last weekend, and as usual it was a great success. Despite the bitter cold temps fans came out in droves to see some of the best racers in the world compete for the title.
Most fans bragged that the cold was all part of the experience and staying warm just came down to dressing appropriately. In the 50 years of the race, it has never been cancelled because of the cold, despite temps of -40 degrees some years.
With the lack of real good snow this year, area businesses depend on the races to bring in millions of dollars to the Eagle River area.
The 30 lap Championship Race ended up starting an hour late, but fans were not disappointed as Malcolm Chartier from Marine City, MI took top honors in a close finish, winning by under a second.
Times of the top 4 are below:
Malcolm Chartier, Marine City, MI – 20:41.288
Jordan Wahl, Greenbush, MN – 20:41.382
Matt Schulz, Wausau, WI – 20:41.383
Dustin Wahl, Greenbush, MN – 20:42.178
Source: www.derbytrack.com